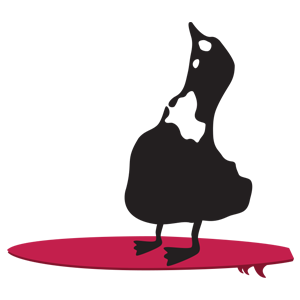 Have you been enjoying your summer vacation on Block Island?
I've been busier than usual this summer, what with entertaining house guests, hanging out at the beach and enjoying the weather on Block Island. I'm certain I saw some of you at Race Week XXV and then at the fireworks show at Fred Benson Town Beach on July 4th after that entertaining Independence Day parade earlier in the day.  Click here for more info on the parade.
Thanks for taking time to say hello! Also, I got a lot of compliments on my new BlockDuck t-shirt. It's sturdy cotton so it goes a long way toward protecting my feathers after they get a little red and tender after a long day in the sun. You can get your own t-shirt and find out what I'm talking about!
By the way, consider a long-sleeve t-shirt or one of our hats not only because they're stylish but also because of the increase in the number of reported Lyme disease cases on Block Island this year. Click here for more info.  Be careful out there everybody!
---
---