Why BlockDuck? Over the last 40 years, three generations of our extended family, and countless friends, have all come to cherish and enjoy all of the beauty that Block Island has to offer. It has become almost a magical place for many of us, spending hours looking at a picture of the island, waiting for the new season to begin. Those hours and pictures led to the creation of BlockDuck. Enjoy!
Here are a few future items on the BlockDuck radar:
Building out and increasing our product base

Block Island Storefront next year (hopefully… web toes crossed)
BlockDuck brew pub (quacky idea, but could be fun)
Online build your own BlockDuck (shirts and hats)
Where in the world is BlockDuck
Submit your duck – creativity corner – contests for our future duck team
Meet our team
---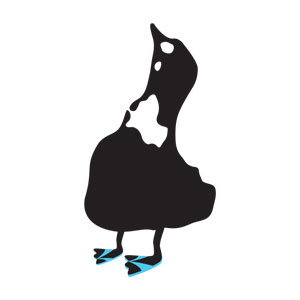 The Original Duck
Timeless, classic, sophisticated, yet simple. Original Duck's style exudes the essence of Block Island life. This drake drinks an old-fashioned on the porch and believes flip-flops with a linen suit are proper attire for a summer evening out. You'll find Original Duck entertaining friends on the beach with clambakes and cold beer or making the rounds in town while dispensing his signature charm and wit.
---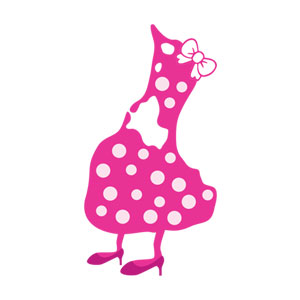 Polka Duck
This sassy lady is confident in her own feathers. Part fashionista, part bookworm and part outdoor enthusiast, Polka Duck maximizes the moment. She's graceful and tough, and she turns heads with her intoxicating duckiness. You'll know when Polka Duck is in your presence, not only because of her array of dots but also because she draws a crowd wherever she goes.
---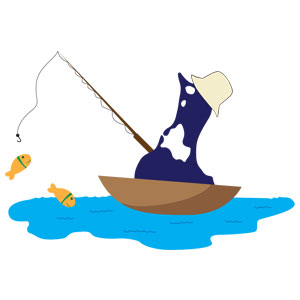 Fishing Duck
You thought ducks just dipped their heads in the water to nibble on pondweed, lotus seeds and the like? Not on Block Island. Fishing Duck knows how to navigate local waters for bountiful seafood and for the blissful experience of rocking gently in a boat while soaking up the sun and salty air. He'll regale you with tales and he takes to Block Island Life like, well, a duck to water.
---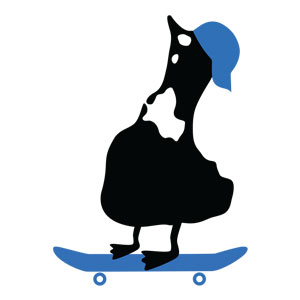 Skating Duck
Have you ever seen a duck flying through the air? Oh, right. Well, what about on a skateboard? Didn't think so. Skating Duck shakes the lazy off summer days with killer moves that leave spectators breathless. He knows how to work a crowd. He also knows how to play it cool, and you'll likely find Skating Duck lounging poolside or at the beach to recharge.
---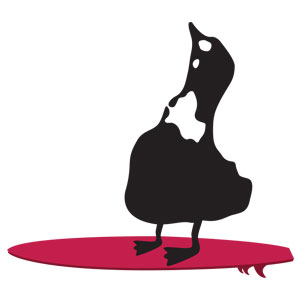 Surfing Duck
If it weren't for surfboards, ducks wouldn't be able to do much on the water but float. Surfing Duck tolerated no such boredom in his youth, so he learned how to wax his board and hit the waves. While other ducks glided along quietly, Surfing Duck carved his own path and become known for a wild "Cowabunga!" roar that can be heard above the roiling, crashing sea.
---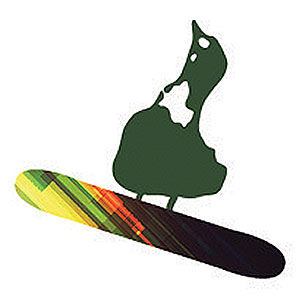 Snowboard Duck – Male
Not all birds fly south for the winter. Snowboard Duck seeks snowy peaks as soon as it's too chilly to swim on Block Island. With a fresh coat of wax on his board, he hits the slopes in northern New England and the Rockies in search of the most shreddable powder. But he never forgets Block Island, and this outgoing bird always invites new friends out for a summertime visit.
---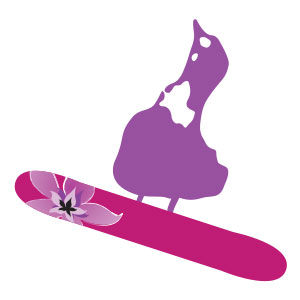 Snowboard Duck – Female
Go ahead. Make that tired joke about Snowboard Duck and a cute little snow bunny. She's heard it a thousand times, and she always responds by kicking up a spray of snow in the person's face. Snowboard Duck slices across mountains with speed, attitude and style. After you pick up your jaw from the ground, you can apologize to her. She'll be sitting fireside in the lodge.
---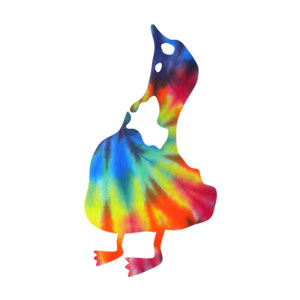 Tie-Dye Duck
Talk about a rare bird. Tie-Dye Duck is one of a kind, a go-with-the-flow duck who always knows where to find fun on Block Island. He's known for walking into an ice cream parlor and buying a round of cones for everyone, and he's the best disc thrower this side of the mainland. Tie-Dye Duck will do anything to help a fellow Block Islander. Except give you the shirt off his back. You'll have to get your own.